Our Mission
To serve as instruments of change by aligning with parents, youth, and the community to strengthen and protect Iowa youth, families, and communities from substance use disorder.
About the ACM Foundation
The idea for the Addam C. Medina Foundation originated shortly after Addam's death in 2005. Given Addam's talent and passionate interest in music, fundraising events featuring young Iowa musicians, including Addam's family and friends, seemed to be a fitting tribute.
In 2022 we supported these nonprofits:
4 All Kids
Al Exito/Mary Campos Scholarship
B Well Foundation
Community Youth Concepts
Dream Team
North Polk Post Prom

Addam's 40th Birthday Musical Instrument Drive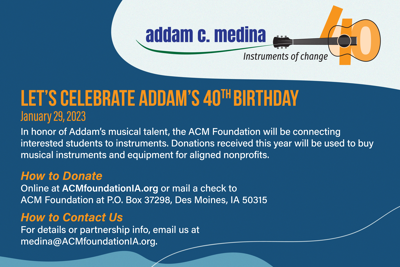 Generosity brings us together.
Click Donate above for payment options.


The foundation is a 501(c)(3) nonprofit organization. Current board members include Vicki Facto, Amanda Byers, Tammy Mullin, and Rick and Cathy Medina.